The best way to keep your sweety baby's foot size forever. This would be lifetime memory for you. When your kid grows up you will be able to see his little foot again. It's the perfect gift for your kids when they grow up. 
PRESERVE YOUR BABY'S HAND & FOOT PRINT!
TRULY A ONCE IN A LIFETIME OPPURTUNITY!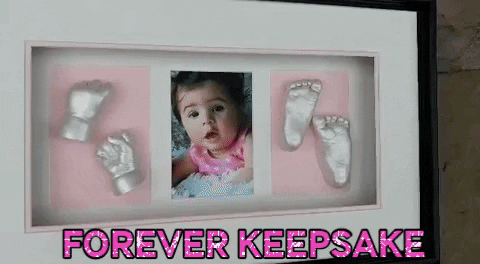 FEATURES:

● 3D Hand Design offers you the once in a lifetime chance to reproduce the hand or foot of your child Three Dimensionally and with accurate details. The easy application allows a wide scope of design and provides you with an eternal souvenir that you can collect.

● Do not miss this opportunity for yourself or as an exceptional gift idea on the occasion of childbirth, a christening etc for family and godparents.

● Preserve the precious detail! The amazing rubbery mold will capture tiny toenails, fingernails, dimples & footprints. even if baby wiggles! It's simple, fast and fun. All you need is water and baby.


STEP-BY-STEP INSTRUCTIONS:

(1) Mix the molding powder with water. Insert baby's foot or hand into the molding container. After about 75 seconds the mold sets. Wiggle baby's foot (or hand) out of the molding material.
(2) Mix the bag of casting stone with water. Pour the casting mixture into the mold. Let the casting stone harden for two hours.
(3) Uncover the mold and get the statue.
(4) Paint and enjoy it!


PACKAGE INCLUDED:
- Molding powder
- Plaster
- 1 x gold/white/sliver powder
- 1 x Brush
- 1 x Detailed Instructions
After your order is complete, it takes us 1-2 business days to process the order and get it ready for shipping. 
Once the order is shipped, please allow 24-48 hours for the tracking number to be fully updated on the post office system.
You can track your package here: